Wednesday, the four teams of the Hops and Vine magazine met to give progress reports and brainstorm ideas.
The content team is focusing on the main feature stories for the magazine, while everyone else contributes front of the book articles. Virginia Kettles plans to do a photo essay on Brew Ridge Taps, focusing on the variety of labels they feature there. From a business view, Parker Butler is taking a look into the positive and negative views of the Devils Backbone buy-out. And of course, we can't forget wine! Julia Gsell wants to feature Rockbridge Vineyard. There may also be a story on the Lexington Valley Vineyard and its recent re-branding.
The design team wants to help the content come alive with visually appealing spreads. The cover design is complete and waiting for a picture that will encompass the feel of the magazine. A subtitle with a banner will also be added to the cover.  The team is beginning work on the 27-page book to help establish story lengths. Photos of the wine, beer, breweries, vineyards and all those associated in the process will be the focus in the magazine's layout.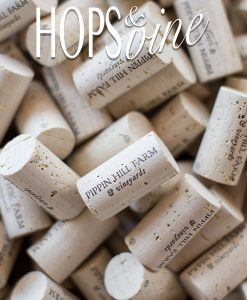 Without market research and the business team, however, the magazine could not be possible. The market research team has sent out a Survey Monkey to help find out important information about our key demographic. They are asking the important questions of what people want to see in a magazine about Virginia beer and wine. The business team is exploring the financials behind it all and deciding what model is best for us. They are debating how to best reach our target audience, while keeping the costs affective. Professor Cumming recommended a setup where our goal was to make a profit after the first year of print. They are also researching advertisers, which the design team will represent in the magazine.
With New York coming up very quickly, the teams are busy at work to accomplish all of the goals. To find out how it all turns out, be sure to stay up to date with the class blog and read the prospectus for Hops and Vine, due out May 20.
— Ashley Faulkner