As our class stepped into the Wenner Media office on Monday, our first stop was a hall displaying every Rolling Stone cover from the first issue, printed in 1967, to the most recent.
Rolling Stone associate editor Andy Greene walked us down the hall, telling stories behind the different covers and reminiscing about the days before the Internet.
"If you wanted to learn about rock stars, it was basically only here," said Greene about the magazine.
The magazine has evolved since its founding. Like other magazines and media outlets, it has been forced to change to fit in with the digital age.
Greene said when he writes a print story, he also thinks about how to make it work online. He said he likes the freedom of online journalism because there are no confines of space and there is more opportunity to do what you want with your pieces.
Greene started at Rolling Stone as an intern. He got the gig through his boss, a former Rolling Stone employee, at the Rock and Roll Hall of Fame in his hometown of Cleveland, where he previously worked. After interning for five months, he was hired full time and has been working there for the past 12 years.
Throughout his career, Greene has interviewed "almost everyone in rock." His stories are about 80 percent music, but he occasionally writes about television and books. He gave interviewing advice to our class, reminding us to keep in mind that the interviewer is in charge.
He also said to start with what the interviewee wants to talk about first and to save the tough, controversial topics for the end. This way, if something goes wrong and the interviewee hangs up or leaves, you still have the rest of the interview to write about.
Another helpful and unusual tip was to take pictures or video of the location where the interview takes place. This can help craft the lede of the story, which Greene said is the most important part.
"I can take 4 seconds and turn it into a whole scene," said Greene about videoing his surroundings during an interview.
Greene gave this rule of thumb in determining how good of a job you did on a story: If the publicist loved it, you failed; If the publicist calls you snarling and angry, but there are no factual errors, you nailed it.
He said that sometimes "little things can be turned into huge deals." An example is a story he wrote on Paul Simon. In response to Art Garfunkel's derogatory comments about Simon, Greene asked Simon whether he would tour with him again. Simon said no way. Following the interview, both Simon's publicist and manager called up Greene begging him to take the quote out of the story. Greene refused and the story ran. Even though it seemed obvious that Simon wouldn't want to tour with Garfunkel, there was still uproar from his team over the comment.
There were other stories of celebrities making demands for the magazine. Greene said that they tried to get Beyoncé for the cover recently. She was willing to be photographed for the cover, but did not want to do an interview. She offered a poet who had helped with her album to do the interview instead- that request was denied. When trying to write an article about Kanye West, he asked for story approval. Obviously, this was a no-go.
However, El Chapo was granted story approval for his interview with Sean Penn. Greene said that while it does go against typical journalism ethics, the magazine made an exception because of the exclusivity of the story. He noted that El Chapo did not make a single change to the story.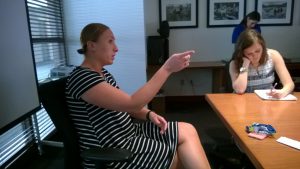 Following Greene's visit, we also spoke with Taryn Wood-Norris, on the digital/product design team for Wenner Media. She explained her work on site design, product design and digital experiences for magazines. She has worked on the redesign of the websites for Wenner Media's three magazines- Rolling Stone, Men's Journal and Us Weekly.
"Digital is only growing," said Wood-Norris.
After launching the sites on the new platform, Wenner Media is able to create digital experiences quicker and more efficiently. It was previously outsourced, but is much easier to do in-house.
She noted the importance of knowing where to put what content, which is challenging at times. A certain article or video may work on Facebook, but may not work somewhere else. Part of her job is figuring out where to place content in order to "maximize the revenue stream."
Greene and Wood-Norris both provided interesting insight into the evolving magazine world. However, the most exciting part of our visit came at the end.
After our class squeezed into an elevator to leave the office, a man pushed towards the back asked where we were from and what we were studying. We replied that we were journalism students from Washington and Lee University.
He chuckled under his breath. "Good luck… It's the devil's field."
Once we stepped off, another man who witnessed the encounter walked up to us and asked if we knew who we had been talking to in the elevator. After shaking our heads, he said, "That was Jann Wenner, the founder of Rolling Stone."
Needless to say, we were shocked and excited to have gotten some not-so helpful advice from a magazine legend.
— Mary Michael Teel