"Tell me if I'm boring you," Alec Wilkinson tells the Washington and Lee journalism class that sits beside him on a large rock in Central Park. But Wilkinson is anything but boring.
When Wilkinson first graduated from Bennington College as a music major, he hoped to follow in the steps of Bob Dylan and become a rock-n-roll musician.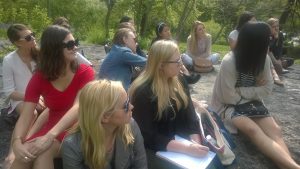 If one did not know better, they might guess that he had succeeded in that dream. His long, grey hair resembles Mick Jagger's wavy locks and his skinny jeans cling to his thighs.
But Wilkinson has long since given up on his musical dreams. One day he decided he could not spend the rest of his life playing his music in ski lodges.
So he moved to his family's summer home in Wellfleet, Mass., on Cape Cod, and got a job as a police officer. Wilkinson decided that his job was attention worthy. As a white college graduate, he had joined the force rather than attending law school like many of his peers had done. So after a year on the job, Wilkinson began work on a novel and his writing career was born.
Now, Wilkinson, a writer for The New Yorker, has completed ten books and been named to the "first rank of literary journalists" by The Philadelphia Inquirer.
Burgeoning writers ourselves, we were lucky to spend the morning with Wilkinson in the park. We learned the ins-and-outs of the writing process and what it takes to get your foot in the door at a magazine.
Now we too are ready to take on the world of literary writing.
— Danielle Amiot