Jeff Hamill, executive vice president for sales and marketing for Hearst, talked to our class in New York last week about the company's creative advertising tactics in what he called a "vibrant, changing, energetic" business.
"Digital disrupts," according to Hamill, and he and his team have been forced to think outside the box when it comes to advertising. He said the key to success for publications is to create engaging content that audiences want and then scale it to a specific platform. This also applies to advertising.
It is difficult to get the audience to engage with advertisements, especially online, but Hearst has created numerous campaigns that do just that. Their #GoBold campaign for Revlon included an online reality show, hosted by transgender actress Laverne Cox, with three women who were on the brink of success in their careers. They were meant to exemplify facets of the "Revlon woman." The webisodes were a hit and successfully promoted the struggling brand.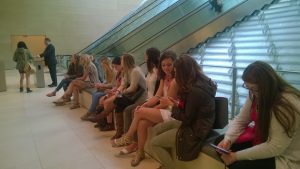 Other strategies used by the Hearst marketing team included native advertising in company's the various publications. Each ad in with the content in the individual magazine. The magazine staff would help to create the content for the ads to make sure it stayed true to the style of the publication, although it is marked as "sponsored," Hamill said. Hearst has further targeted  advertisements by sending different versions of the same magazine to different subscribers based on who the business believed would buy their product, using "big data."
Hearst has successfully adapted to the changing culture of media and will undoubtedly continue to think of innovative advertising ideas in the future.
–Mary Michael Teel